Man with the Mike
(There are 225 "Man with the Mike" programs in this collection.)
Produced by TRAFCO, the Television, Radio, and Film Commission of the Methodist Church, 1965-1966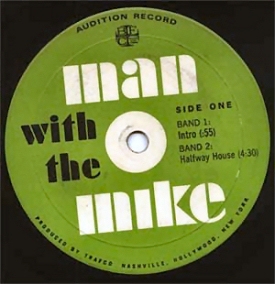 Man with the Mike was a production of The Methodist Church and the Broadcasting and Film Commission of the National Council of Churches of Christ.
It was a 4-1/2 minute daily program release on disk (vinyl record.) As of November 17, 1965, there were 175 stations carryng the program. The program was recorded in many cities and rural areas in the U.S., and in many nations in Africa. Subjects covered include alcoholism, drug use, the Peace Corps, counseling programs, disaster recovery, and many other subjects of the issues of life.
The host was Eric Robinson, a man with an upbeat presence and a British accent, but we have learned nothing more about him. He may possibly be the Eric Robinson that shows up on the Internet as being an announcer on Melodies for You on BBC Radio 2 from 1967 to 1971 – RadioRewind. This Eric Robinson was both a bandleader and a radio broadcaster, and in the early 1960's, he owned the IBC recording studios in London. Those studios, SoundOnSound, did the earliest recordings of The Beatles, The Rolling Stones, and The Who. He was an official conductor for BBC Television and appeared in hundreds of programs. He was born in 1908 and died in 1974 or 1975. He would have been 57 when Man with the Mike went on the air.