United Methodist General Commission on Archives and History (GCAH)
The General Commission on Archives and History (GCAH) gathers, preserves, and disseminates materials on the history of The United Methodist Church and its antecedents. It maintains archives and a library in which the historical records are kept.
---
Randomly chosen program from the General Commission on Archives and History:
The Presidential Election: George Wallace of the American Independent Party
Speaker(s): &nbspJames Rupp, Clifford A. "Tex" Franklin, Del Shields (host)
Date of Recording: &nbspOctober 29, 1968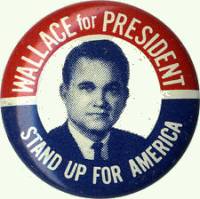 Description:
&nbsp The guest for the first fifteen minutes is James Rupp, of the New York Courage Party, the state unit of the American Independent Party, on which George Wallace was running for president. The guest for the remainder of the program is Clifford A. "Tex" Franklin, the Alabama businessman who served as director of Wallace's presidential campaign in the state of New York. They said Wallace was a supporter of states rights, constitutional government, free speech, free enterprise, and law and order. They said Wallace believed the United Nations was a hoax, that the U.S. should not bear the brunt of the war in Vietnam, and that Wallace denounced the Ku Klux Klan. Franklin says Wallace is not a segregationist, but advocates segregated schools in Alabama because he supports the state's right to be segregationist, explaining his statement "Segregation today, segregation tomorrow, segregation forever." Franklin describes Wallace's supporters as "the little man" who doesn't like the way things have been going in the country. John Birch Society members are described as supporters of the campaign. The 1968 presidential election was won by Republican Richard Nixon. The Democrat running was Hubert Humphrey. This program was recorded one week before the election.
Length:
&nbsp58:26