United Methodist General Commission on Archives and History (GCAH)
The General Commission on Archives and History (GCAH) gathers, preserves, and disseminates materials on the history of The United Methodist Church and its antecedents. It maintains archives and a library in which the historical records are kept.
---
Randomly chosen program from the General Commission on Archives and History:
Your Questions on Election Night 1968
Speaker(s): &nbspMac Kilduff, Dick Wiley, Mike Gill, Miles Hughey, Clifford Alexander, Del Shields (host)
Date of Recording: &nbspNovember 5, 1968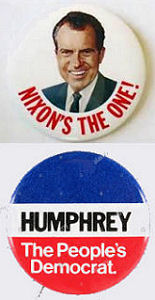 Description:
&nbsp As this program begins (at 11:30pm ET on election night 1968) the decision between Richard Nixon and Hubert Humphrey is still too close to call. The results for George Wallace are poor. Del Shields hosts the program from Humphrey Headquarters at the Mayflower Hotel in Washington, DC. The guests are: Malcolm (Mac) Kilduff , a journalist who became part of the Humphrey campaign and in 1963 was the person who announced the death of President Kennedy; Richard E. (Dick) Wiley of United Citizens for Nixon/Agnew, and later head of the FCC; Michael (Mike) Gill, a businessman and part of the Nixon Campaign (his houseboat was docked near the Doral Hotel in Miami Beach and served as an unofficial gathering place for many of Richard M. Nixon's supporters); Miles Hughey; and Clifford Alexander, special assistant to President Johnson. Discussion focused on the value and accuracy of polls, the value of televised debates, the amount of money spent on campaigns, youth involved in the campaigns, use of a computerized system to evaluate public views, rules of the Electoral College, the possibility of a split between the Electoral Collage and the popular vote, and views on stopping the war in Vietnam. As the program ended, the election had still not been decided. It eventually went to Richard Nixon.
Length:
&nbsp59:03