United Methodist General Commission on Archives and History (GCAH)
The General Commission on Archives and History (GCAH) gathers, preserves, and disseminates materials on the history of The United Methodist Church and its antecedents. It maintains archives and a library in which the historical records are kept.
---
Randomly chosen program from the General Commission on Archives and History:
Ghetto Education: Death at an Early Age
Speaker(s): &nbspJonathan Kozol, Del Shields (host)
Date of Recording: &nbspSeptember 17, 1968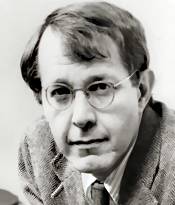 Description:
&nbsp Jonathan Kozol (b. 1936) is an American writer, educator, and activist. best known for his books on public education in the United States. When young, he became a teacher in the Boston (Roxbury) Public Schools and was fired for teaching a Langston Hughes poem, and soon became deeply involved in the Civil Rights movement. "Death at an Early Age," his first non-fiction book, is a description of his first year as a teacher. It was published in 1967 and won the National Book Award in Science, Philosophy, and Religion. It has sold more than two million copies in the United States and Europe. In this program, Kozol describes the racism inherent in the public schools, in both the curriculum and the staff. A 14-year-old wants to know what to do when the teacher will call on only the White children. There is a focus on cultural racism and White negative perceptions of Black people, as well as a needed respect for Black culture and history. A Boston caller says there are good, sensitive teachers who aren't allowed to improve the situation. Note: The opening of the program is missing on the original recording.
Length:
&nbsp55:22