United Methodist General Commission on Archives and History (GCAH)
The General Commission on Archives and History (GCAH) gathers, preserves, and disseminates materials on the history of The United Methodist Church and its antecedents. It maintains archives and a library in which the historical records are kept.
---
Randomly chosen program from the General Commission on Archives and History:
The Draft: How Does it Work Today, and Should it Be Changed?
Speaker(s): &nbspLouis Hershey
Date of Recording: &nbspNovember 14, 1968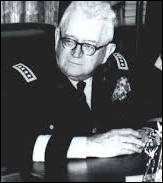 Description:
&nbsp Lieutenant General Louis B. Hershey (1893-1977) was a public school teacher who also served in the Indiana National Guard, In 1920, he changed careers when he joined the U.S. Army, eventually rising to the rank of General. Hershey was one of only three generals in the history of the U.S. Army to have served as a general during three major conflicts. In 1940, President Franklin Roosevelt promoted him to brigadier general and named him executive officer of the Selective Service System. The next year, Roosevelt named him director of the Selective Service and he remained in that position until 1970. Hershey said there were a few thousand draft resisters in the country - not a large percentage, but they get plenty of public notice. He called those who burned their draft cards as misguided. He stated that, instead of Selective Service, he would like to have universal military training for all young men, but he said Congress would never agree to that. People wanted to know about the deferments for teachers and graduate students, and how to extend a deferment in college if you don't complete the program in four years. Hershey told a caller that he had testified before Congress hundreds of times, but they don't often do what he suggests. A draft counselor wanted to know why young men don't know much about the rules and regulations of the draft. Hershey explained that college students can be deferred until the age of 24, and no one would be taken after the age of 28. At the time, the country was looking at the possibility of creating a lottery system, but the law did not allow it. A draft lottery was instituted a year later, in December 1969.
Length:
&nbsp59:12