Religion Communicators Council
The Religion Communicators Council is a U.S. nonprofit organization representing marketing, communications and public relations officers from 60 different faith-based institutions. Founded in 1929 as the Religious Publicity Council, it became the Religion Communicators Council in 1998. It was originally focused on communications needs for Christian organizations, but in 1970 it expanded its membership to all religious faiths.The organization is headquartered in the Interchurch Center in New York City. It hosts an annual conference to discuss media strategies and issues. It also presents the Wilbur Awards, an annual tribute to mainstream media's coverage of faith-based issues.
---
Randomly chosen program from the Religion Communicators Council:
Humanitarian and Faith-based Organizations Link Arms to Protect Women and Children
Speaker(s): &nbspLinda Unger (intro), Olusimbo Ige, Claus Grue, Caterina Tino
Date of Recording: &nbspApril 2, 2016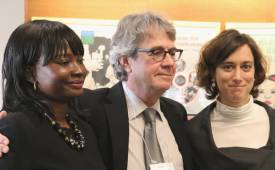 Description:
&nbsp This is a panel discussion at the 2016 convention of the Religion Communicators Council. Dr. Olusimbo Ige says no single organization can address the needs of vulnerable women and children - the job is too big. That's why partnerships are crucial if humanitarian efforts are to be effective. Ige is the director for Global Health, United Methodist Board of Global Ministries. Catarina Tino, of UNICEF, said two-thirds to half of UNICEF's participating country offices work in a variety of strategies with faith-based organizations (FBOs) "in the field, where the real action takes place" and in outcome areas that touch on children's rights. A highlight of Tino's presentation was a three-minute excerpt of Chimamanda Adichie's TED Talk "The Danger of a Single Story," Claus Grue, of the World Council of Churches, addressed the benefits of partnership in terms of organizational strength, citing the strong WCC presence in rural areas, which are difficult for humanitarian efforts to reach, and UNICEF's strong brand relating to child rights.
Length:
&nbsp1:25:48