Religion Communicators Council
The Religion Communicators Council is a U.S. nonprofit organization representing marketing, communications and public relations officers from 60 different faith-based institutions. Founded in 1929 as the Religious Publicity Council, it became the Religion Communicators Council in 1998. It was originally focused on communications needs for Christian organizations, but in 1970 it expanded its membership to all religious faiths.The organization is headquartered in the Interchurch Center in New York City. It hosts an annual conference to discuss media strategies and issues. It also presents the Wilbur Awards, an annual tribute to mainstream media's coverage of faith-based issues.
---
Randomly chosen program from the Religion Communicators Council:
Intersections: Faith and the Global Community
Speaker(s): &nbspJim Winkler, Ganoune Diop, George Carey
Date of Recording: &nbspApril 2, 2016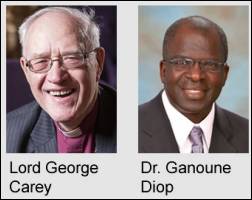 Description:
&nbsp Moderated by Jim Winkler, the Executive Director of the National Council of Churches, this event was a keynote lunch at the 2016 convention of the Religion Communicators Council. Lord George Carey served as the Archbishop of Canterbury from 1991 to 2002, and Dr. Ganoune Diop is Director of the Public Affairs and Religious Liberty Department at the Seventh-day Adventist Church. The speakers focused on the intersection of religion and the secular world, especially in the United Nations setting, and the importance of protecting both freedom of religion and a free expression of religion.
Length:
&nbsp60:13