The Library at Wesley Theological Seminary, Washington DC
Wesley Theological Seminary is a United Methodist–affiliated seminary located in Washington, D.C. The school was founded in 1882. As a seminary affiliated with the United Methodist Church, the theology at Wesley is considered Mainline Protestant.
---
Randomly chosen program from the Wesley Theological Seminary:
Women and Ministry
Speaker(s): &nbspRosemary Ruether
Date of Recording: &nbsp3/29/1979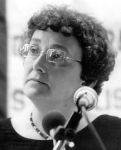 Description:
&nbsp In this keynote address at Wesley Theological Seminary, Rosemary Ruether talks about women and ministry in a historical and denominational perspective. Introduction by Dr. Francine Cardman. Ruether begins at 6:09. The microphone is somewhat removed from the speakers, but most of the material is clear and easy to hear. Ruether was a Roman Catholic teacher of church history at George Washington University and of theology at Howard School of Religion.
Length:
&nbsp45:00