Bill Gates, Sr.
Father of Bill Gates, yes, but he has his own story …
Bill Gates, Sr. Speaks about Global Health to a United Methodist General Conference (2008)
Bio from Wikipedia, 3/2/2012
Life and Career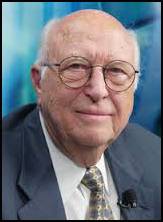 Gates was born in Bremerton, Washington, to William Henry Gates I or Sr. (Bremerton, Washington, March 14, 1891 – Bremerton, Washington, August 17, 1969), and wife (married c. 1913) Lillian Elizabeth Rice (Bremerton, Washington, 1891 – Bremerton, Washington, November 27, 1966). He was the third in his family to have the same name, his grandfather being the first William Henry Gates. He was an active member of a Boy Scout troop for several years, and earned the Eagle Scout Award in 1941. After high school he enlisted in the United States Army, changing his name to William Gates, Jr. to avoid the appearance of elitism. He fought in World War II and was honorably discharged in November 1946.
He attended the University of Washington under the G.I. Bill, where he earned a B.A. in 1949 and a law degree in 1950. While at Washington he joined the Chi Psi Fraternity. He practiced law until 1998, primarily with the law firm which he co-founded as Shidler & King in 1964, later known as Preston, Gates & Ellis LLP; the firm was merged into the firm now known as K&L Gates, although Bill Gates, Sr. is not affiliated with the firm. Gates also served on the board of Planned Parenthood.
In 1998, Gates retired from PGE. He currently serves on the Board of Regents for the University of Washington, and is a co-chair of the Bill and Melinda Gates Foundation, which his son Bill and his son's wife Melinda founded. He has served as a director for Costco Wholesale, a bulk retail corporation, since 2003. He is also a founding co-chair of the Pacific Health Summit. He has adopted the suffix "Sr." to distinguish himself from his more famous son.
Gates is co-author, with Chuck Collins, of the book Wealth and Our Commonwealth: Why America Should Tax Accumulated Fortunes, a defense of the policies promoted by the estate tax.
He married Mary Maxwell Gates, whom he met at UW, and who died in 1994. They had three children: Kristianne, Bill, and Libby. In 1996, Gates married Mimi Gardner Gates, who was director of the Seattle Art Museum.
World Justice Project
William H. Gates, Sr. serves as an Honorary Co-Chair for the World Justice Project. The World Justice Project works to lead a global, multidisciplinary effort to strengthen the Rule of Law for the development of communities of opportunity and equity.