Reinhold Niebuhr
Karl Paul Reinhold Niebuhr, June 21, 1892 – June 1, 1971, was an American theologian and commentator on public affairs.
Dramatic Interpretation of History, 1958, at Drew Seminary, audio improves at 1-1/2 minutes:
Bio from Wikipedia, 3/3/2012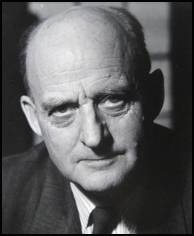 Starting as a leftist minister in the 1920s indebted to theological liberalism, he shifted to the new Neo-Orthodox theology in the 1930s, explaining how the sin of pride created evil in the world. He attacked utopianism as ineffectual for dealing with reality, writing in The Children of Light and the Children of Darkness (1944): "Man's capacity for justice makes democracy possible; but man's inclination to injustice makes democracy necessary."
His realism deepened after 1945 and led him to support United States' efforts to confront Soviet communism around the world. A powerful speaker, he was one of the most influential religious leaders of the 1940s and 1950s in American public affairs. Niebuhr battled with the religious liberals over what he called their naïve views of sin and the optimism of the Social Gospel, and battled with the religious conservatives over what he viewed as their naïve view of scripture and their narrow definition of "true religion".
His long-term impact involves relating the Christian faith to "realism" in foreign affairs, rather than idealism, and his contribution to modern "just war" thinking. Niebuhr's perspective influenced many liberals, who came to support a "realist" foreign policy. Such recent leaders of American foreign policy as Jimmy Carter, Madeleine Albright, Hillary Clinton, John McCain, and Barack Obama have acknowledged Niebuhr's importance to them.
Early Life and Education
Niebuhr was born in Wright City, Missouri, the son of German immigrants Gustav Niebuhr and his wife Lydia. His father was a German Evangelical pastor; his denomination was the American branch of the established Prussian Church Union in Germany. It is now part of the United Church of Christ. The family spoke German at home. His brother, H. Richard Niebuhr, became a famous historian of religion, and his sister, Hulda Niebuhr, became a divinity professor in Chicago.
Reinhold Niebuhr attended Elmhurst College in Illinois and graduated in 1910. He studied at Eden Theological Seminary in Webster Groves, Missouri. Niebuhr attended Yale Divinity School, where he earned a Bachelor of Divinity degree in 1914 and a Master of Arts degree the following year. He always regretted not taking a doctorate. Niebuhr said that Yale gave him intellectual liberation from the localism of his German-American upbringing.
Marriage and Family
In 1931, Niebuhr married Ursula Keppel-Compton. She was a member of the Church of England and was educated at Oxford University in theology and history. She met Niebuhr while studying for her master's degree at Union Theological Seminary. For many years, she was on faculty at Barnard College (the women's college of Columbia University) where she helped establish, and then chaired, the religious studies department. The Niebuhrs had two children, Christopher Niebuhr and Elisabeth Sifton Niebuhr. Ursula Niebuhr left evidence in her professional papers at the Library of Congress showing that she co-authored some of her husband's later writings.