Buddy Williams
Buddy Williams was former Negro League pitcher, and a longtime member of Good Hope Union United Methodist Church in Silver Spring, Maryland.
Bio from United Methodist Communications, 1/4/2012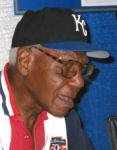 Buddy Williams grew up working on the North Carolina farm his father inherited from his grandfather, a freed slave. He played in the racially segregated Negro Leagues from 1937 to 1941, mostly for the Newark (N.J.) Eagles, but also for the Birmingham (Ala.) Black Barons and Atlanta Black Crackers.
The following story appears in the November / December 2004 issue of INTERPRETER Magazine:
Walter "Buddy" Williams: Gave up baseball career to raise a family.
When Buddy Williams was growing up on his father's farm, his uncle taught him to pitch a breaking fast curve ball with control. After high school, Williams became a respected pitcher for the racially segregated Negro League from 1937 to 1941. Playing against legends like Josh Gibson, Satchel Paige and Jackie Robinson, Williams pitched mostly for the Newark (N.J.) Eagles, but also for the Birmingham (Ala.) Black Barons and Atlanta Black Crackers.
All the players would ask me, "Buddy, can't you throw something besides a curve ball?" says Williams, who pitched two games a week for $1 to $2.
In 1936, Williams married and joined Good Hope Union Church in Silver Spring, Md., where he is still a member. From 1940 to 1945 he served in the U.S. Army; two of those years were spent traveling across the United States to play baseball at different army posts.
When he came home from the war, Williams was asked by the baseball commissioner and numerous players to return to professional ball. "I declined their offer to play because all I wanted to do was stay home with my wife and help raise our three sons and three daughters," says Williams, who in 1945 accepted work installing venetian blinds and later served 33 years as a custodian for the Montgomery County School Board. "I look at my beautiful family today and know I made the right decision," says the great-grandfather of six who is lovingly called "Grandpa Buddy."
Williams and other former Negro League players are featured in I Will Never Forget by Brent Kelley, published in 2003 by McFarland & Company Inc. He also makes about 15 appearances a year at baseball memorabilia shows to sign autographs, sell souvenirs and recount highlights of his baseball career.
The son of an undertaker who made caskets and performed burials for $2 to $5, Williams is no stranger to hard work and still does his own lawn work. "I trust in God, and He takes care of me," Williams says. The nephew of a Baptist minister and grandson of a freed slave and a Methodist pastor, Williams prides himself on "knowing no enemy anywhere in the world."
– Heather Peck Stahl, Nashville, Tenn., is a freelance writer and editor.