Voices of Faith at Work in the World
1088 Programs Available  •  Free, Unlimited Listening  •  Search Programs Here
The historical religion programs in this collection came from the archives, library shelves, and back rooms of many organizations. Faith groups represented include African Methodist Episcopal, Baptist, Episcopal, Lutheran, Mennonite, Methodist, Presbyterian, Quaker, Roman Catholic, Salvation Army, United Church of Christ, and others.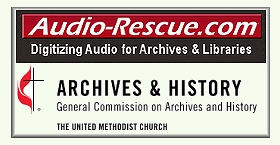 This SoundTheology online archive is an independent service of Audio-Rescue.com, provided in conjunction with the United Methodist General Commission on Archives and History (GCAH). Many of these programs would have been lost forever if not saved in this project.
The originating institutions have made the recordings available for public access to further private study, scholarship, and research. They retain the rights to the recordings.
Receive Program Updates by Email
Speakers in this collection:
This collection includes hundreds of radio programs exploring faith and society – with personalities such as James Baldwin, H. Rap Brown, Hillary Clinton, Judy Collins, Bill Cosby, Jocelyn Elders, Julian Huxley, John F. Kennedy, Al Gore, Margaret Mead, Fred Rogers, and Charles Schulz.