Peter Gomes
Peter J. Gomes was born in Plymouth, Massachusetts, descended from the Fulani, Tikar, and Hausa peoples of West Africa, as well as from Portuguese Jews through his Cape Verdean paternal grandfather. He was baptized as a Roman Catholic but later became an American Baptist.
"No Going Back" – a sermon preached in 2001

Find more sermons by Peter Gomes on the Audio Programs page.
Bio from Wikipedia, 1/5/2012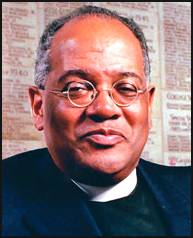 After earning his AB from Bates College in 1965 and STB from Harvard Divinity School in 1968, Gomes was ordained by the First Baptist Church of Plymouth, Massachusetts, (where he occasionally preached throughout his life). After a short tenure at Tuskeegee, he returned to Harvard, where in 1970 he became Pusey Minister in Harvard's nondenominational Memorial Church, and in 1974 was made Plummer Professor of Christian Morals.
Gomes was a leading expert on early American religiosity. On faculty at both Harvard's Divinity School and its Faculty of Arts and Sciences, Gomes taught graduate and undergraduate courses — his History of Harvard and Its Presidents explored the interplay between shifting religious attitudes and changes in national (and educational) politics in America – and served as faculty adviser of the Harvard Ichthus.
In 2000, he delivered The University Sermon before The University of Cambridge, England, and The Millennial Sermon in Canterbury Cathedral, England; and he presented The Beecher Lectures on Preaching, in Yale Divinity School. Gomes was also a visiting professor at Duke University and the University of North Carolina, Chapel Hill. Profiled by Robert Boynton in The New Yorker, and interviewed by Morley Safer on 60 Minutes, Gomes was included in the premiere issue of Talk Magazine as part of its feature article, "The Best Talkers in America: Fifty Big Mouths We Hope Will Never Shut Up."
Hospitalized after a stroke in December, 2010, Gomes hoped to return to Memorial Church in time for the following Easter. He died on February 28, 2011. Speakers at his memorial service at the Memorial Church on April 6, 2011, included Derek C. Bok, a former president of Harvard University; Drew Gilpin Faust, president of the University; and Deval Patrick, Governor of Massachusetts.
Theology, theography, social advocacy and politics
Listed by Time Magazine in 1979 as one of "seven stars of the pulpit", Gomes fulfilled preaching and lecturing engagements throughout the United States and Great Britain, In 2009, he represented Harvard University as lecturer to The University of Cambridge, England, on the occasion of its 800th anniversary.
Gomes published a total of ten volumes of sermons, as well as numerous articles and papers. He was well-known for his sermons, particularly for one he delivered in the immediate wake of the September 11, 2001, attacks — a sermon poignantly referenced by Governor Deval Patrick at Gomes's memorial service on April 6, 2011. He was author of two bestselling books, The Good Book: Reading the Bible with Mind and Heart and Sermons, the Book of Wisdom for Daily Living. The Right Reverend Lord Robert Runcie, 102nd Archbishop of Canterbury, England, ecclesiastical head of the Anglican Communion, said of Gomes's The Good Book that it "offers a crash course in biblical literacy in a nuanced but easy-to-understand style", which is also "lively"; Henry Louis Gates, Jr. called it "Easily the best contemporary book on the Bible for thoughtful people". His last work, The Scandalous Gospel of Jesus, included extensive commentary and observation on the interrelations of Church and State throughout history and particularly in recent US history.
In 1991 Gomes identified himself publicly as gay, though adding that he remained celibate, and became an advocate of acceptance of homosexuality in American society and particularly in religion: "I now have an unambiguous vocation — a mission — to address the religious causes and roots of homophobia… I will devote the rest of my life to addressing the 'religious case' against gays." Same-sex marriage advocate Evan Wolfson described Gomes as an integral contributor to the cause of marriage equality.
He maintained that "one can read into the Bible almost any interpretation of morality "… for its passages had been used to defend slavery and the liberation of slaves, to support racism, anti-Semitism and patriotism, to enshrine a dominance of men over women, and to condemn homosexuality as immoral" as paraphrased by Robert D. McFadden in the New York Times (March 2, 2011).
Gomes was a registered Republican for most of his life, and offered prayers at the inaugurals of United States Presidents Ronald Reagan and George H. W. Bush. In August 2006, he changed his registration to the Democratic Party, supporting the candidacy of Deval Patrick, who was that year elected the first African-American governor of Massachusetts. (Gomes and Partick had become friends during Patrick's undergraduate days at Harvard.)